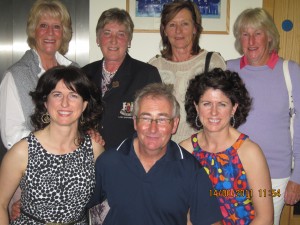 On Tuesday 14th June 2011, the 17th Annual North Louth Hospice Golf Classic was held in Dundalk Golf Club. Over 200 ladies took  part in the 4 Lady Team competition which was once again generously sponsored by The Hair Shop and Horseware.  There was also a 9-hole competition for the men in which 64 competed.
The winners with a fantastic 94 points were: Michelle Quine, Grainne O'Connor, Ita Donnelly and Jill Reynolds. Second on 91 points were T Bulter, A Connolly, R O'Reilly and C Larkin. Third who also scored 91 points were Violet McGeady, Majella Cassidy, Jacinta Foran and Bernie Prendergast.
In the mens competition the winner was John Connolly with 20, from Derek Williams and Mickey Hamilton.
We would like to thank all involved in this great event, from those who helped to organise the day and to those who took part in the competition which raised €7,ooo.