Driver Services
NLH has been providing a volunteer driver service for Cancer Patients in North Louth for the past 15 years.
Patients travelling to Drogheda or Dublin for cancer treatment, can be collected from their home by one of our volunteer drivers who will take them to their treatment destination,and return them home after treatment.
This is generally regarded as one of our most important services as some patients would otherwise be dependent on taxis and public transport. This is often very tiring for Patients who are having regular chemotherapy or radium treatment and may not be feeling well after their treatment.
North Louth Hospice has a roster of 80 volunteer drivers who between them carry up to 700 patients to their appointments per annum.
On occasion we have needed up to 18 drivers in one 5 day week. Generally however drivers will only be asked to do a drive every 3 / 4 weeks hence it is not a great burden on any one driver.
Most drivers report that the experience is generally very rewarding – apart entirely from their generous contribution to the community that can be invaluable to patients and their Families.
North Louth Hospice have pioneered this service locally for the past 15 years!
Specialist Homecare Services
NLH can supply a range of special equipment and home support to provide for Cancer Patients` comfort and to assist their families and carers in attending their needs them at home.
North Louth Hospice Homecare services are provided only with the guidance and requests made by Public Health Nurses and Palliative Care Specialists or Doctors.
When seriously ill patients who wish to be at home with their Family are being discharged from Hospital, NLH regularly receive requests for High Dependency Beds from Hospital Staff, Dochas or Public Health Nurses, for High Dependency Beds/Mattresses.In most such cases the patient cannot be discharged without these facilities being put in placeIn their home beforehand , hence the fundamental importance of our equipment service. NLH deliver and erect these Beds and install the High Dependency Air Mattress in the patients home. We later collect them for redeployment to other patients after a special cleaning process has been completed. Our ten beds are in constant use, and recent health service cut backs have created an ever greater demand for our homecare services in general
Specialised Equipment Available:
"Motorised beds" can be used to improve bed bound Patient Mobility for ease of personal care by those attending to their needs, or to simply improve their posture so as to ease discomfort, help with breathing difficulties etc.
"Super Soft Medium Dependency Mattresses" assist patient comfort at home in their own bed.
"Special High Dependency Air Mattresses" to aid bed bound patient comfort and to prevent or ease the effects of "Pressure Sores", they are used in conjunction with Motorised beds.
"Motorised Arm Chairs" which improve patient comfort and independence, along with Wheel Chairs , and most other items that can assist cancer patients` personal care.
NLH currently have ten motorised beds and High Dependency Air Mattresses, each set cost circa €7,500.
Home Help Support
NLH can support Home Help and Nursing services in certain circumstances for seriously ill cancer patients. Home Help support is provided only in consultation with Public Health Nurses.
Night Nursing Support
The Irish Cancer Society night nursing care programmes can provide nursing for up to 14 nights. NLH can in certain circumstances upon request from Dochas, extend this service if required beyond their allowable limit of 14 nights. This service must be requested by a member of the palliative care team.
Family Support
Based strictly on inputs from Public Health Nurses, NLH can also support the families of terminally ill cancer patients with vouchers for home heating oil (in Winter) food and travel. We can also arrange counselling services, and non medical therapies, where appropriate.
Hospice Shop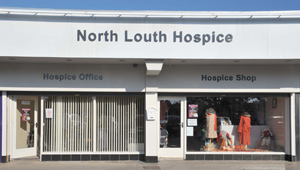 2009 saw the complete refurbishing of the Hospice Shop and offices which has been a great success. Good Quality clothes, handbags etc which are generously donated by the general public are sold to a wide cross-section of society. This is a major source of income for the NLH.
The shop is managed by our own Volunteer Shop Co-ordinators and circa 40 ladies each give up 3 to 4 hours per week of their time to assistant in the Shop. Opening hours are 10.00am to 5.00 pm Monday to Saturday inclusive.
Apart from being a significant source of income the shop is often used as a conduit by people with cancer related medical issues who wish to make discreet contact with our Hospice Service coordinators.
Hospice Office
Our newly refurbished office and premises is a true centre of activity for Hospice Volunteers and indeed cancer patients, carers etc.Members are also available most mornings to meet patients or their families to discuss problems or to explain our services. The Officers also hold weekly meetings there, while all council meetings are also held there.